by Edward Albee
directed by Russell McGee
---
---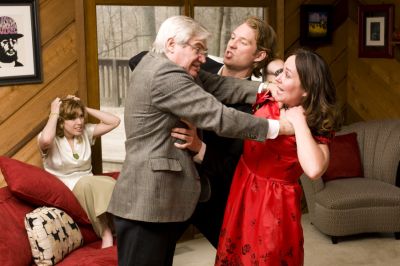 PERFORMANCES
John Waldron Arts Center
Rose Firebay
122 S. Walnut St.
Bloomington, IN 47401
April 18-19, 25-26, May 2-3 @ 7:00 & May 3 @ 1:00 pm
TICKETS
Advanced Tickets
General Admission $12
Student/Seniors $9
Buy tickets online @
www.bloomingtonarts.info
Tickets at the Door
General Admission $15
Students/Seniors $12
ABOUT THE PLAY
Starrynight Productions presents Edward Albee's 1963 Tony Award winning play, Who's Afraid of Virginia Woolf. The Broadway production of this play was a shattering and memorable experience and established the Albee as a major American playwright.
"This is a Big One" — NY Journal American.
"…a scorching, scalding, revealing and completely engrossing drama" — Women's Wear Daily.
"…a brilliant piece of writing" — NY Herald Tribune.
Russell McGee will direct this production, which brings the lives of two couples to an evening intersection. George, a professor at a small college, and his wife, Martha, have just returned home drunk from a Saturday night party. Martha announces, amidst general profanity, that she has invited a young couple–an opportunistic new professor at the college and his shatteringly naive new bride–to stop by for a nightcap. When they young couple arrives, the charade begins. The drinks flow and suddenly, inhibitions melt away. It becomes clear that Martha is determined to seduce the young professor and George couldn't care less. Underneath the edgy banter, which is crossfired between both couples, lurks an undercurrent of tragedy and despair. George and Martha's inhumane bitterness toward one another is provoked by the enormous personal sadness that they have pledged to keep to themselves, a secret that has seemingly been the foundation of their relationship. In the end, the mystery, in which the distressed George and Martha have taken refuge, is exposed, once and for all revealing the degrading mess they have made of their lives.
CAST
| | |
| --- | --- |
| Martha | Gail Bray |
| George | Gerard W. Pauwels |
| Honey | Sarah Mae Ruggles |
| Nick | Michael Carey |
CREW
| | |
| --- | --- |
| Director | Russell McGee |
| Asst. Director | Kathryn Marshall |
| Stage Manager | Stephenie Courter |
| Asst. Stage Manager | Anthony Wayne |
| Sound Designer | Jared D. Duymovic |
| Set Designer | Bill Goveia |
| Set Construction | Bill Goveia, Toni Ane Scroggins, Anthony Wayne |
| Costume Designer | Toni Ane Scroggins |
| Lighting Designer | Lee Burckes |
| Light and Sound Technician | Kathryn Marshall |
CAST & CREW BIOGRAPHIES
Coming soon!
MEDIA
Coming soon!